Make sure you have a Musixmatch account and that are you are logged in and follow the simple steps below:
Click "Add Lyrics"

Consult the guidelines on how to correctly format and write up the lyrics.

Add the lyrics in the section specified

Check that everything is correct

Click "Save" and you're done!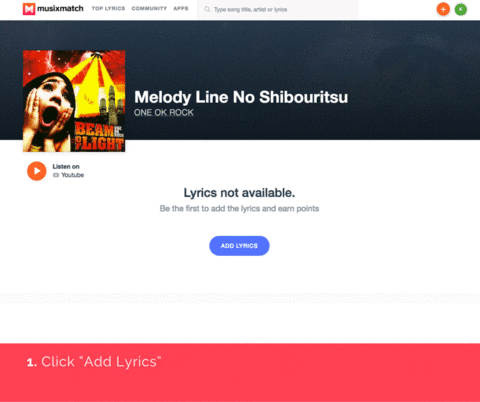 Please note: If you are new to Musixmatch your lyrics will need to be approved by other users before they get published. You can invite your friends to review your lyrics by sharing the Musixmatch link via your favourite social media.
When your lyrics have been approved by the community they will appear online and are ready to be enjoyed by everybody.
In the meantime why not look at our "Suggested Lyrics Add" or at our automatic feed and contribute more lyrics to our catalogue to win points.